About Us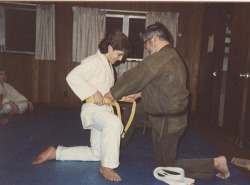 Now Renshi Herzenberg receiving his Yellow belt
In the summer of 1988, in south Florida, David Herzenberg, was introduced to, and began training under, Professor Rick Riccardi, Grandmaster and Founder of Niseido® Ju Jitsu, 10th Dan Vee Jitsu Ryu Ju Jitsu.
Mr. Herzenberg was, at that time, training Wado Ryu Karate under Sensei David Roth.
In January of 1993 Sensei Herzenberg tested and was promoted to Shodan 1st degree blackbelt in Niseido® Ju Jitsu.
Now more than 2 decades later, Renshi Herzenberg holds the rank of Godan, 5th degree blackbelt, and the title of Renshi, all received directly from Professor Riccardi.
In June of 1998, Renshi Herzenberg relocated to New Mexico. In July of 1999, Renshi Herzenberg opened the Santa Fe Dojo now located on 2nd Street in Santa Fe, NM.
The primary art studied here at Santa Fe Dojo, is Japanese Ju Jitsu.
More specifically, the system studied at Santa Fe Dojo is best described as a gendai goshin jujutsu system, a modern self defense study.
So what exactly is Ju Jitsu?
Lot's of good info here at Wiki...
Some Key Points...
Ju Jitsu, Jujutsu or Jiu Jitsu, all literally mean the "art of softness", or "way of yielding", these are collective names for Japanese martial styles including unarmed and armed techniques. Jujutsu evolved among the samurai of feudal Japan as a method for defeating an armed and armored opponent without weapons.
Technical characteristics
~ As a "soft" art, jujitsu systems generally employ the principles of balance, leverage, and momentum to overcome opponents. This is in contrast to "hard" systems (for example, some styles of karate and taekwondo) that tend to emphasize developing power, strength, and speed. Although there is some diversity in the actual look and techniques of the various traditional jujutsu systems, there are significant technical similarities common to all schools:
Students learn traditional jujutsu primarily by observation and imitation of the "ryu's waza" (style's techniques).
The unarmed waza (techniques) of most schools emphasize joint-locking techniques (kensetsu waza), that is, threatening a joint's integrity by placing pressure on it in a direction contrary to its normal function, aligning it so that muscular strength cannot be brought to bear, this in addition to take-down or throwing techniques, or a combination of throwing techniques and joint-locks.
Sometimes, atemi (strikes) are targeted to some vulnerable area of the body; this is an aspect of kuzushi, the art of breaking balance as a set-up for a lock, take-down or throw.
Movements tend to capitalize on an attacker's momentum and openings in order to place a joint in a compromised position or to break their balance as preparation for a take-down or throw.
The defender's own body is positioned so as to take optimal advantage of the attacker's weaknesses while simultaneously presenting few openings or weaknesses of its own.
---