Weapons "Kabudo"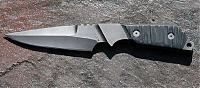 Sm. Integral Fighter by Mick Strider
Our weapons training is made up of the study of both stick and knife.

Our stick training comes predominantly from Arnis de Mano (filipino stick fighting.) In addition to what he learned from Professor Riccardi, Renshi Herzeneberg has had the honor of training Arnis, with Guri Remi Presas.

Our knife training is most strongly influenced by Kali and the teachings of Master Vee.
(Professor Florendo Madriaga Visitation)

Renshi Herzenberg has also had the honor of training with Guru Steve Tarani and as such has also been influenced by the teachings of Pencat Silat especially in regard to the study of the karambit. Additional weapons training in the use of the cane and the tomahawk are also taught to advanced students.

---