An Introduction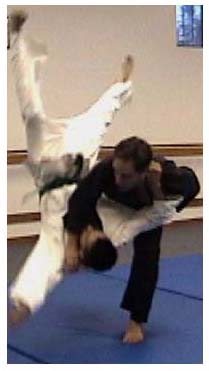 Our classes integrate traditional Japanese Ju Jitsu with a modern training concept. It is specifically designed for the strengthening of muscles, the development of balance, and the basic discipline and skills necessary to progress in an advanced martial arts program.

This is the ancient art of the Samurai. At our dojo (training hall) we study Ju Jitsu and follow the ethical code of the Samurai, the Code of Bushido. This teaches honor, bravery, compassion, honesty, and loyalty. Self respect and discipline will grow within the student, as they begin to expect more from themselves on all levels. In every class we practice striking techniques, movement drills, rolling and falling. Throwing techniques, joint locks and strangulation, make up the infrastructure of our self defense training and are practiced every class. For weapons training we focus on stick and knife. Within the knife curriculum we study both straight blade and the karambit.

Come in and/or bring your child to watch a class or to participate. You can walk in any time! Previous experience in the martial arts is not necessary. If you've been looking for a serious martial arts program for you or for your child, then this may be exactly what you've been looking for.A note on Awareness (Zanshin) and Children:

Zan : leave, left behind Shin: mind

Zanshin (Japanese:) is a term used in the Japanese martial arts. It refers to a state of awareness - a state of relaxed alertness. The literal translation is remaining mind.
In several martial arts, zanshin refers more specifically to the body posture after a technique is executed

Zanshin in karate, zanshin is the state of total awareness. It means being aware of one's surroundings and enemies, and also being prepared to react. In the context of kendo, zanshin is the continued state of mental alertness and physical readiness to instantly attack or respond to an attack or counter attack by ones opponent.


Most of this really comes down to awareness training. More important than any strike, lock, throw, or strangulation, is Zanshin or awareness.


Things to teach all children…

Make sure your children know how to reach you at all times.
Run to a safe zone, if Mommy or Daddy are in a fight with someone.
Identify what a Safe Zone is, ie: a school, a fire or police station, or inside a business.
In addition to their own, they should know the full name and numbers of adults that have been identified by Mom and Dad, as safe adults. ie Grandparents, neighbors, their School Principal…
What Mommy and Daddy are wearing clothing wise.
What Mommy and Daddy's license plate numbers are.
What to do around a gun.
What to do in case of a fire.
To stay close to parents when out, or in a store.
How to operate in a parking lot or a crowd.
How to call 911 and what to say.
Vigilantly monitor any use of the internet and have real conversations about how the internet is being used to lure children.


Keep them safe,

Renshi David Herzenberg
5th Dan Niseido Ju Jitsu
Santa Fe Dojo
Santa Fe, New Mexico
Educate your children to self-control, to the habit of holding passion and prejudice and evil tendencies subject to an upright and reasoning will, and you have done much to abolish misery from their future and crimes from society.
-Benjamin Franklyn
---